In the second session of our Airspace Security Is A Process, Not a Technology webinar series, Scott Frigaard with Convergint covered the value of integrating drone detection with other security systems, use cases for integration, and questions to ask about integration when evaluating drone detection systems.
Here are some highlights from his presentation.
Drone Detection – What It IS and ISN'T
There are several different types of drone detection technologies from radar to Radio Frequency (RF) to acoustic to camera and IR.
But the goal of any drone detection solution is to identify a drone within the protected airspace as early as possible, ideally with advanced warning of a drone launch, and identify the pilot's location before they are able to cause harm, either accidentally or intentionally. The pilot is the key to safely and quickly getting the drone out of the protected airspace.
Drone Detection is NOT mitigation, meaning unless you are one of the 4 federal agencies granted authority, you currently can not mitigate a drone by affecting its flight path or communications.
The White House published its Fact Sheet on The Domestic Counter-Unmanned Aircraft Systems (UAS) National Action Plan which seeks to expand the tools and actors that can employ UAS countermeasures, but those changes are a ways off, and they don't impact the way you deal with drone threats today.
Drone detection is NOT a magic bullet, meaning just having a drone detection system in place, without the appropriate policies, procedures and training, will not reduce the number of incursions into your airspace.
So if the goal of drone detection is incident prevention, and it's not the be all end all solution by itself, then we really need to look at methods for enhancing a drone detection systems' effectiveness and that is through integration with other systems.
The goals of those integrations are:
Greater situational awareness for a more complete picture of the threat a drone poses
Reduced false alarms so that resources aren't wasted in the response and operators don't start ignoring alarms
And faster, more appropriate responses based on the data
Important Data Points to Pull from Drone Detection Systems
Drone location- this can either be as soon as the drone is powered up if using an RF-based solution, or as soon as it reaches a detection altitude for radar
Pilot/Controller location- this is really only provided by an RF-based solution and can't be stressed enough as the most important aspect of drone detection
Flight path and heading- so that operators can track the drone's movements to visually verify what happens when it crosses into protected airspace
Speed- which, coupled with the flight path, provides the Time to Target
Which Systems to Integrate?
The five most common systems that enhance drone detection are:
Surveillance cameras

Radar

Incident Management/Case Management

Unmanned Aircraft System Traffic Management (UTM)

Situational Awareness Platforms
The reality is that criminals are so quick to adapt their tactics to security responses that we don't know what the next potential integration will be. But we should constantly expect to use every available system and resource to combat this threat.
USE CASE: Video Management System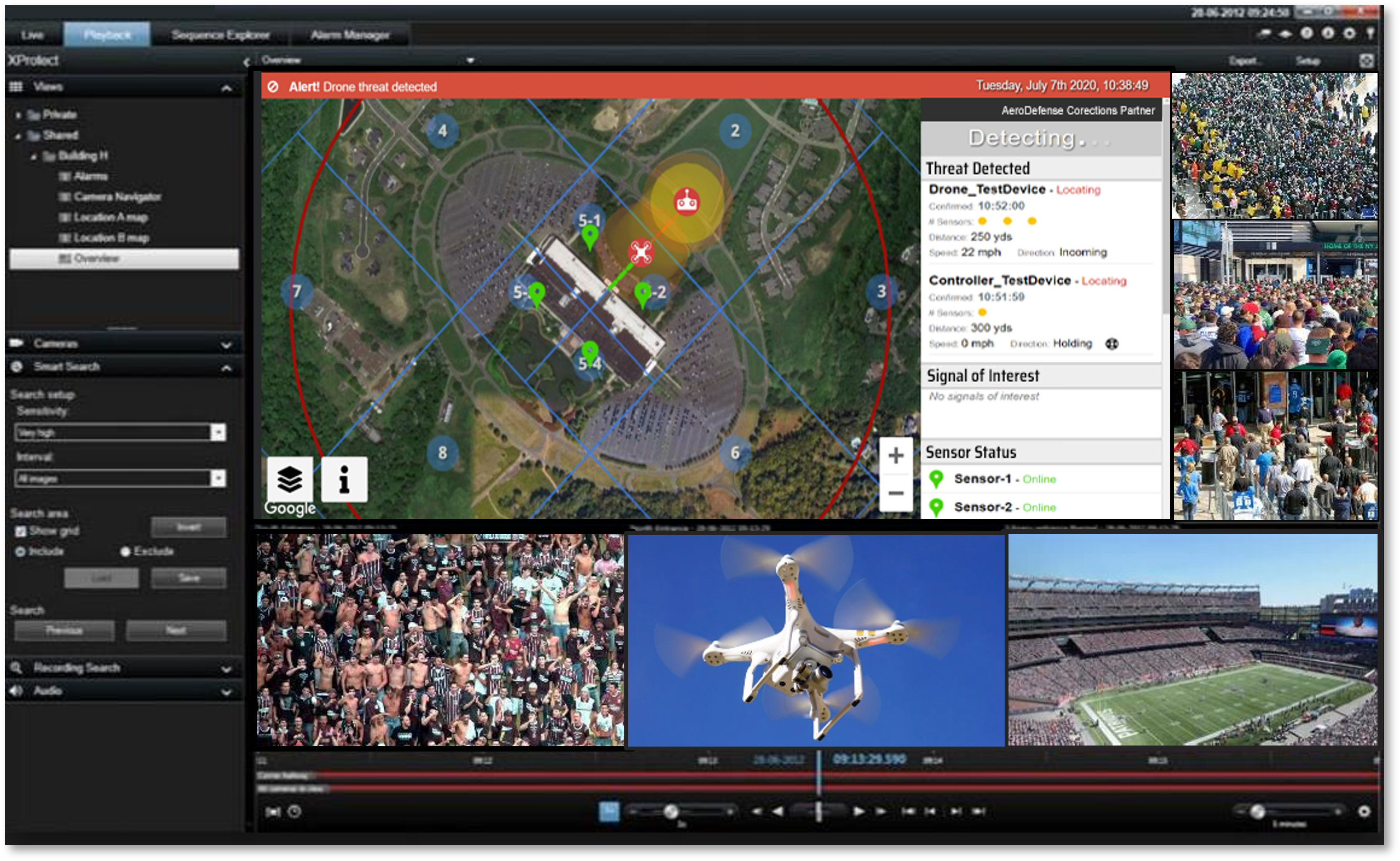 Regarding surveillance cameras, drone detection alerts can be integrated into some video management software applications.
With this integration, a drone alert is automatically presented along with live video of cameras associated with the drone's location and flight path.
If there are Pan Tilt Zoom (PTZ) cameras, they can be automatically commanded to move to the drone's location.
That is the extent of the automation afforded by a video management system. Response personnel are still required to manually follow standard operating procedures (SOPs) for a drone detection alert which should include at a minimum:
Confirm the alert
Provide any additional context about the incident
Notify the appropriate personnel for dispatch to both the drone and the pilot's location
Post incident reporting
The outcome of this integration is faster alert confirmation since the operator can potentially see the drone on a camera and greater situational awareness through the live video regarding the drone's activity in the protected airspace.
USE CASE: Radar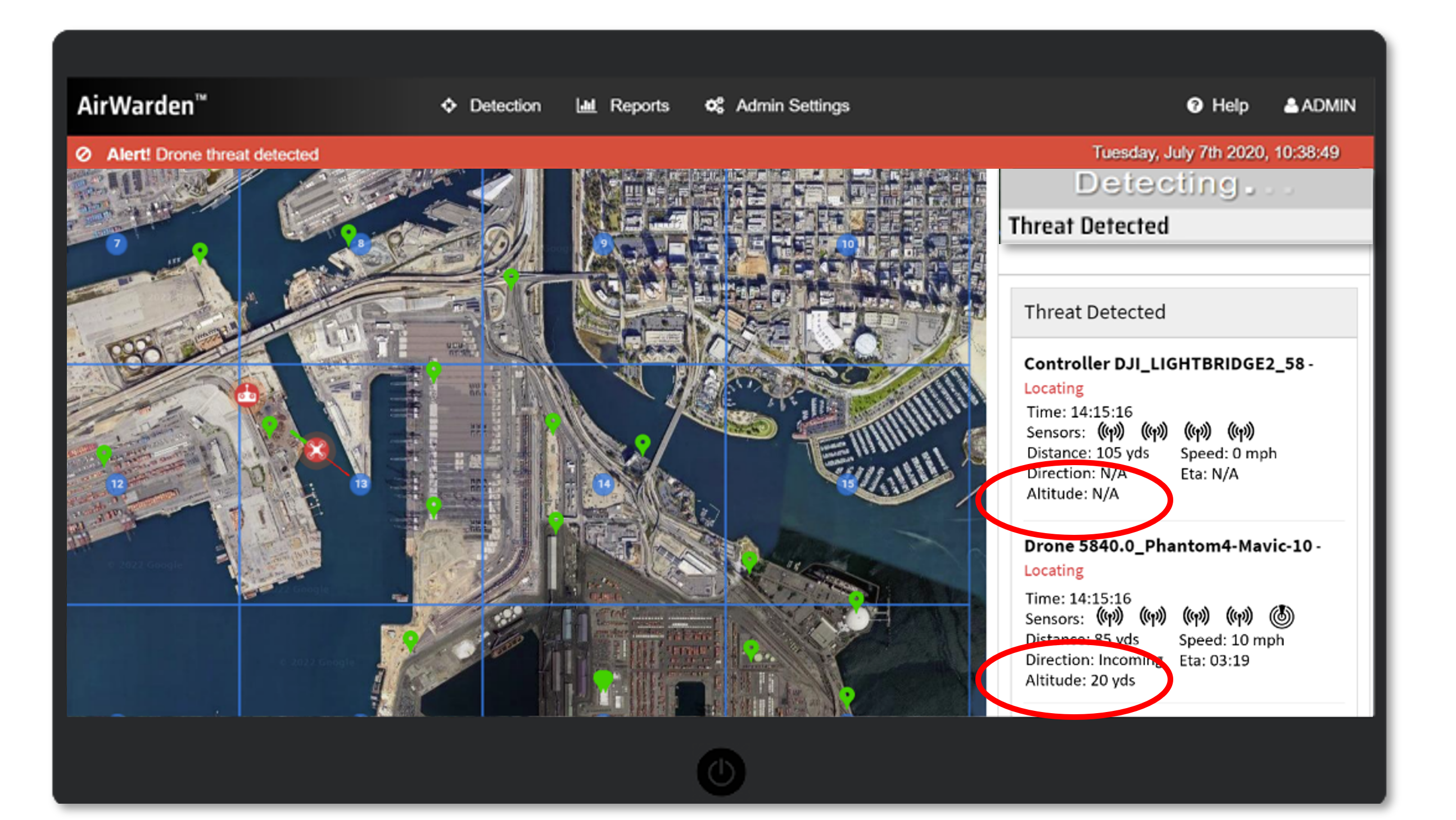 When a radar system is integrated into an RF drone detection system there are several benefits:
Radar systems enhance the alert detail by providing the drone's altitude. While this doesn't affect the response tactic, you still need to get eyes on the drone and investigate. Altitude does provide greater detail on the drone's position relative to the facility or target.
Radar can also validate an RF system's drone detection alert, and visa versa, reducing false drone alarms.
Radar is unique in that it can detect radio-silent drones which can be invisible to RF detection systems.
The workflows are still manual in that the operator must take the right actions in the right order and make the right decisions.
But the outcomes of increased accuracy, enhanced detection detail and the ability to detect all drones in an airspace, including radio-silent drones, are considerable benefits of radar integration.
However, these benefits are usually only realized by entities that already have radar systems in place, since adding radar drone detection to complement an RF-based drone detection system (only type that can locate the pilot) could as much as double the cost of the drone detection program.
USE CASE: Incident Management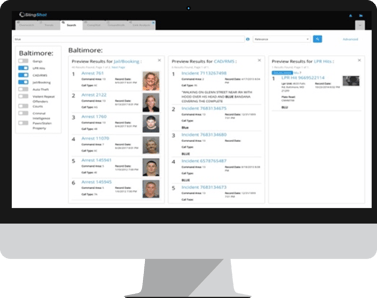 The third integration of Incident and Case Management is most relevant to prison environments and corrections intelligence analysts.
If the Special Operations or Investigations teams do not receive live drone detection alerts for their facilities, then they won't be aware of drone incursions in real time.
Integration with the incident or case management systems will enable the drone detection system to automatically create incidents or cases in those investigations tools.
This automates data entry and ensures that investigators are aware of all attempts to deliver drugs, weapons, cell phones and other contraband into the prison.
Analysts are better able to detect patterns in the data based on time of day or contraband types to aid in their investigations into what organizations are behind the deliveries.
And the data becomes more powerful when more prisons are enrolled in this level of integration.
USE CASE: Unmanned Aircraft System Traffic Management (UTM)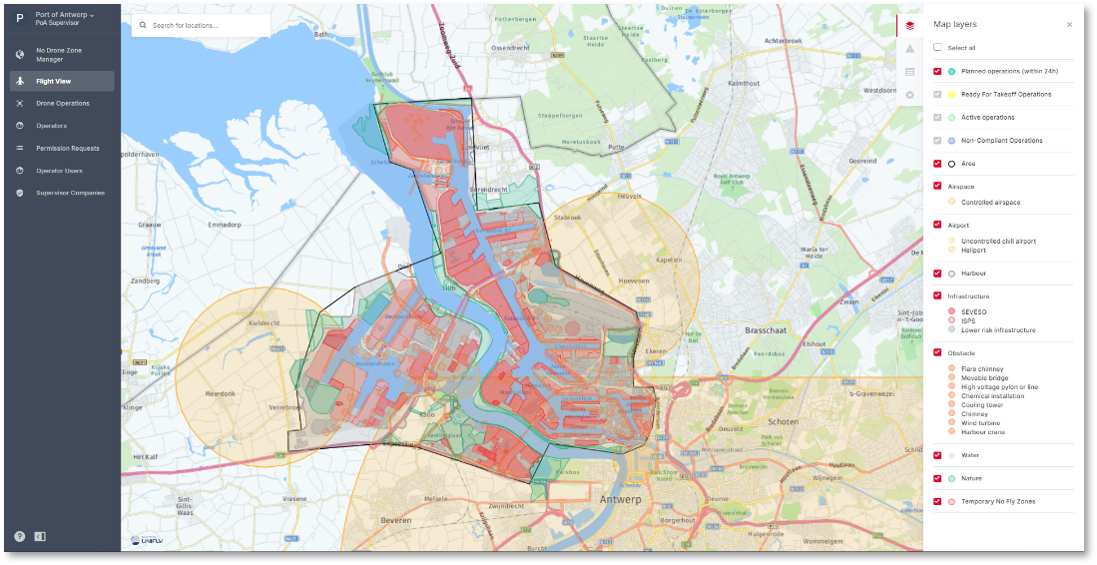 The fourth potential system to integrate with drone detection is UTM.
Drones are technically aircraft according to the Federal Aviation Administration, so it is a natural progression that drones would need air traffic management.
UTM is a new capability that is widespread in Europe and is moving to the US as more drones are utilized for more missions.
UTM enables airspace management and drone flight approvals but does not have drone detection capabilities built in so it can not identify or validate when drones are in protected airspace.
Combining UTM with drone detection enables agencies to detect, identify and differentiate all air traffic within airports, critical infrastructures and other airspaces.
Integrated drone detection data fills in the gaps of UTM data with RF signal characteristics and flight paths and provides situational awareness of all drones in an area.
The alerting process is automated and so are the response SOPs.
The outcomes of this integration are:
Greater airspace awareness of actual drones in an area

And instant identification of potential threats in a crowded airspace
USE CASE: Situational Awareness Platform (SAP)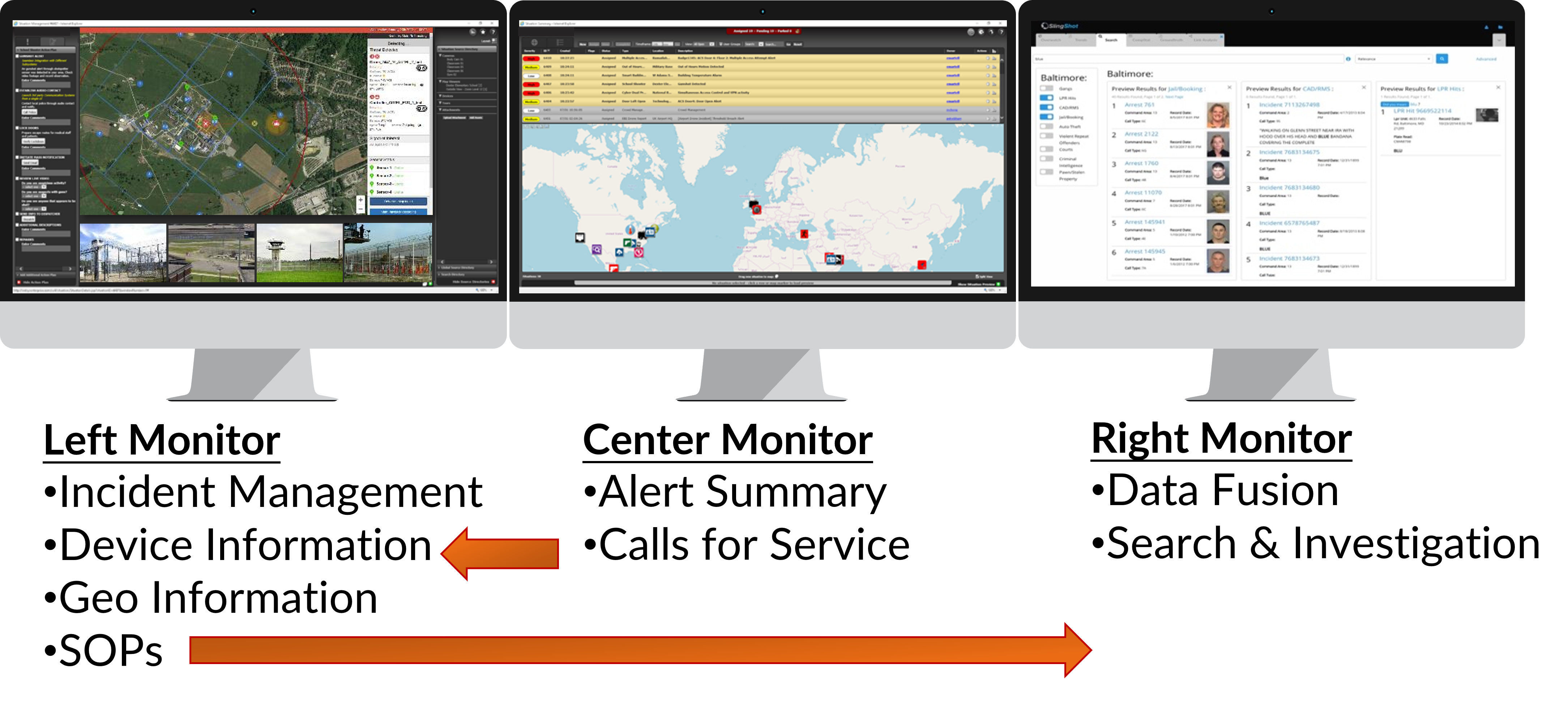 The final use case for an SAP is a little more complex.
These platforms, often identified as Physical Security Information Management systems or PSIMs, exist in Security Operations Centers and Real Time Crime Centers and serve to integrate all safety, security and operational applications into a single interface to minimize operator tasks, streamline workflows and enhance response capabilities.
They typically follow a workflow where all alerts and incoming calls for service are received on the central monitor. Then when an operator handles an alert, the detail from numerous systems relevant to an incident including live video, sensor data, maps, resources and assets is presented on the left monitor. And then the operator is passed to the right monitor to conduct longer investigations and search activities.
Not all SAPs look like this, some have only 1 or 2 monitors, but this is a typical incident workflow. We'll focus on the incident detail on the left monitor.
When drone detection data is integrated into a situational awareness platform, it is correlated with all other relevant systems.
This can include the different systems we've talked about all presented in a single interface with all available data to confirm the alert and provide the greatest situational awareness perspective possible.
All workflows can and should be automated from alert confirmation to communications to reporting so that the time between detection and response is minimized and the right resources are brought to bear on the incident.
This is by far the most comprehensive integration, and it also delivers the greatest return on investment.
Questions to Ask About Integration
If you already have a drone detection solution in place and have an integrator with the ability to lead these integration efforts, then you're in a great spot.
If you are evaluating which drone detection system to implement, consider adding these questions to your evaluation criteria to ensure you select a system that enables the desired integrations:
Can the drone detection solution easily integrate with other systems?
Ask the manufacturer how they would pass data to other systems and what the costs would be.
Can the drone detection solution receive data from other systems?
This will determine the level of customization that can be supported by that system to adapt to new threats and SOPs.
You should also understand the costs associated with custom development.
How will the integrations be supported?
You should expect a 3-year lifespan at the minimum for drone detection, so the Integrations should be supported for the life of the drone detection system.
Find out if the integrations will be performed by the manufacturer or an integrator.
Am I introducing a cybersecurity vulnerability?
There are some commonly sold drone detection systems made in China.
While this presents a known cybersecurity vulnerability, organizations who buy these systems will claim they've mitigated this risk by air gapping or keeping the system on a separate network.
That may be, but as soon as you integrate with cameras or a PSIM, you've placed that system on your network and introduced a significant potential cybersecurity risk from an adversarial nation.
The DoD and other federal government agencies have numerous position papers stating the threats Chinese-made systems have on national security so caveat emptor with Chinese solutions and integrations.
CONCLUSION
The purpose of drone detection is incident prevention
Regardless of bells and whistles or low price points, the solution has to deliver fast identification of all airborne threats for immediate response
The faster you can locate the pilot/controller, the faster you can get the threat out of your airspace

Integration of drone detection data with other systems is critical to delivering:
Greater situational awareness
Greater detection accuracy
Faster, more informed responses
Watch the full recording of Scott's webinar
Session 1 webinar recap (Drone Threat Risk Management Strategy and Response Planning)