Security Operations Centers (SOC) must become more intelligent, more proactive and more collaborative in response to the growing volume and types of threats.
SOCs can no longer be reactive, security-centric environments that are dependent on operators to identify issues and events and take the right actions.
Instead, SOCs must grow beyond their current boundaries to capture more data, convert it into actionable intelligence and then collaborate with stakeholders across the enterprise to generate greater returns on the organization's investment in security.
SOCs become more intelligent by integrating more systems, sensors and data sources into the management platform. This integration results in greater situational awareness of threats so that operators can make better informed, data driven decisions. One of the sensor platforms that is increasingly of value to situational awareness is drone detection.
Organizations of all kinds are facing new threats from aerial drones, and while intrusion and perimeter protection systems focused on perimeter security were once sufficient, today airspace security is equally important to the protection of many facilities.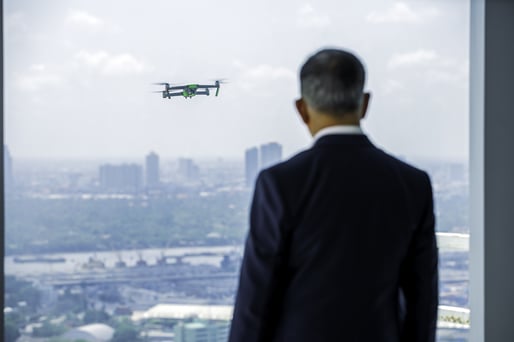 Malicious uses of drones include criminal activism, competitive surveillance, espionage, cyber-attacks and event security breaches, which are compounded by the surge in careless hobbyists. These hobbyist and nefarious drones pose risks to people, property, and operations.

Integrating drone detection systems into the SOC enables Security staff to be instantly alerted when a drone is activated outside their perimeter, before it even becomes airborne and can begin to cause damage. Airspace intrusion alerts should be integrated into a situational awareness platform along with other perimeter security alerts so that operators are presented with the critical context of the location of the drone and most importantly the controller, number of devices and other pertinent information like the drone's speed and ETA.

In a Corrections environment, for example, the instant awareness of when a drone is powered on, would enable Corrections staff to dispatch a patrol, or notify local law enforcement, of the location of the controller for the fastest resolution. This would also enable Corrections staff to clear the prison yard before the drone can drop contraband (drugs, phone, money, weapon) to the inmates.
At a large corporate campus, drones can be used to conduct surveillance with their high-definition cameras or aid in a cyber-attack for intellectual property theft. Time is of the essence in these situations that can be extremely damaging to the business, so airspace awareness and alerts that include the pilot's location are critical.

Bottom line, SOCs must be fully inclusive of all security alerting systems. The advanced warning provided by integrating the drone detection system into the SOC enables Security staff to adopt a more proactive posture and provide additional time to coordinate efforts for a more effective response.